Find our self-paced innovation e-learning in a web-based environment, designed to provide practical materials and activities geared towards mastering our innovation standards & innovation certification program or a particular subject. Developed by GIM Institute's subject matter experts, we are continuously updating our list of e-Learning modules that can help you in your certificate preparation. The innovation e-Learning modules and online courses consist of approximately two to four hours of digital content.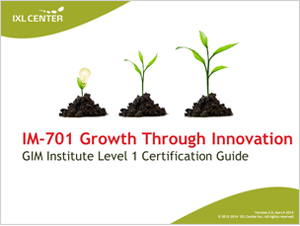 This online course covers the conceptual and practical elements of the IMBOK Level 1 Guide. It consists of approximately two hours of digital content. You can always go back and continue where you left off thus allowing you to absorb the content at your own pace.
Want your e-Learning modules and online courses be featured on GIM Institute's website? Fill out the Contact Us Form.