CONNECTING YOU TO THE WORLD'S MOST BRILLIANT MINDS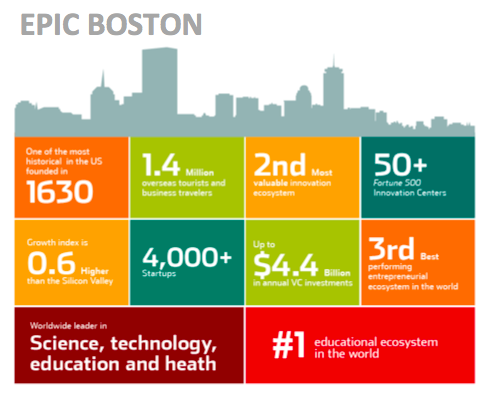 Boston is recognized as one of the best Entrepreneurial ecosystem in the world. By joining EPIC, you will get to experience it and walk through what we call the Innovation & Entrepreneurship Experience tour.
Home to the world's most brilliant minds, you will become part of a vibrant and cosmopolitan environment. We will Personalize your experience to match your objectives.
Teams will visit the city with the highest concentration of top Innovation centers and leaders and entrepreneurship hubs to develop and launch new ideas. Get to know them and learn from their experiences.
Teams will access proven success acceleration methodologies, get Certified by a globally recognized innovation institute, understand what's coming next and learn how to disrupt their industry.